The AoC Governance Summit 2017, took place on Wednesday 1 March. Convene was present for this key event in the academic calendar for governors and clerks.
The summit brought together partners and stakeholders as well as key representatives of the education community to share good practice and achievements of further education as well as the challenges faced by college governance.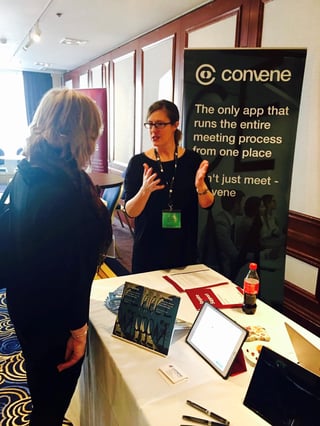 Surrounded by competitors, Convene emerged as a favourite among attendees. Mainly because of the security of the platform and our reasonable pricing but mostly due to the stability of our company amid numerous mergers and acquisitions in the digital meeting space.
Companies spend vast sums of money and time launching new brands, leveraging existing ones, and acquiring rivals. When this happens they could be trying to kill the brand but keep the customers. This is when B2B customers might find themselves in a tricky situation. Will they still get what they paid for? Or will they end up paying more for what they already have? When government funding for higher education and colleges is dropping, this is risk not worth taking.
Convene is produced by Azeus Systems, a global software engineering firm established in 1990. We are not a single product firm which means not only can we bring engineering expertise gained on other products to Convene but this also allows us to have a sustainable growth plan whilst keeping our cost to our clients low.