The 2017 International Hotel Technology Forum was hosted in Disneyland Paris, with hundreds of hoteliers working in technology, marketing and sales gathered to offer a holistic programme of debate and insight.
Over the course of 3 days, attendees heard over 50 presenters tackle the most pressing issues facing the industry.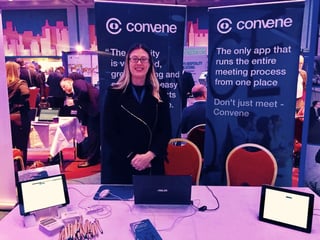 Convene had the privilege of attending this event. Having had Emaar Hospitality Group as a client for many years, and our digital meeting and board portal solution being used at Armani Hotels and Dubai Marina Yatcht Club, we knew that we could offer a transformational meeting solution to the hospitality industry.
"Convene is the perfect end-to-end business solution to enhance the effectiveness and efficiency of meetings. It collapses the multiple painstaking steps of a traditional meeting process cycle into a convenient one-stop platform for all stakeholders." - Wee Meng Chua, Chief Financial Officer, Emaar Hospitality Group LLC.
This was also an opportunity to highlight how Convene enables mobile working and how our app could make business guests' experience a little better.
We even got to enjoy a bit of hospitality ourselves, with great food and well organised networking events.
Convene is an award-winning digital meeting solution which can be configured specifically for your organisation to incorporate an easy-to-use, seamless, and secure digitalised process of creating and managing board meetings and associated meeting materials.
Designed for senior executives, executive assistants and administrators, Convene is an end-to-end comprehensive solution that helps everyone to be fully prepared for the next meeting. More importantly, Convene is a paperless solution that helps create an environment-friendly workplace incorporating processes that are green and sustainable for your business or organisation.