Another packed, exciting day for Convene yesterday, at the PSEICT Conference 2019 in the Victoria Plaza in London, meeting some of our existing customers and making new friends in the Public Sector. We were delighted by the number of delegates that came to see us at the Convene stand!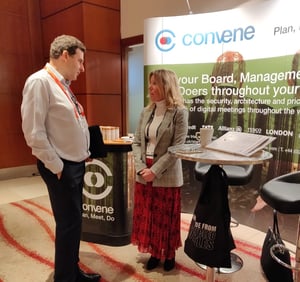 We had lots of positive conversations about the big culture shift away from not wanting to engage with technology. Now, with everyone we spoke to, it was all about agile mind sets, digital ways of working and seeing technology as the enabler of what we do. Decision makers and influencers within the IT and tech space are searching for new and better ways of working and improving performance management through automation.
Given this theme and the need to move away from too much data and complexity in all sectors, we believe Convene is a perfect fit. Our digital board solution is ideal for game changers who want to run unlimited, paperless, virtual and remote meetings.
If you are interested in finding out more about migrating to secure digital meetings click here.