Last month, our Spanish speaking colleague (who also speaks two other languages), was in Madrid for the 15th Training Congress for Assistants and Management Assistants.
It was a chance to talk to people who would be potential administrators in Convene as well as understand the current training they were going through.
Topics included:
Uncertainty as the only certainty, as a developer of our skills and abilities, initiative and creativity
The locus of control: what depends on me and what does not.
Accept, adapt or resign.
The 8 basic digital competences that you must develop as a professional so as not to be left behind in your company
The digital transformation beyond a technological issue: a question of strategic vision, organizational culture and process redesign.
From our perspective, assistants and management assistants are not replaceable by technology but are over-worked because of the lack of it.
By using a platform like Convene, Administrators or Assistants can spend less time printing meeting packs for their board and senior managers and more time using their other skills for the advancement of the company. Technology that makes processes easier also means less stress on the job and a better capacity to solve other problems.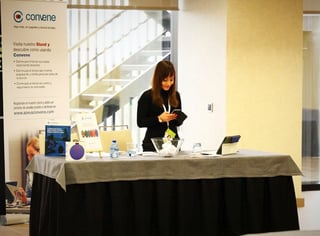 From what I heard, Veronica, really enjoyed the event and the insight she got from all the lovely people she met. So much so that she is looking forward to the 16th edition of this congress. This reflects the quality of the speakers, attendees and the organisation of the event.
You can find out more about Top Secretaria here and have a look at the event video here: