St Patrick's Day is a celebration of Irish culture and heritage around the world. Also known as the 'Emerald Isle', Ireland is home to many natural wonders and plenty of shamrocks.
So, what are we doing to keep things 'green'? A bit of green food colouring in milkshakes or beer is not going to help mother nature.
We at the London office would like to make the most of a great holiday and announce one of our green initiatives for the coming year.
As you may have heard, we are a digital meeting solution. Our clients have saved hundreds to thousands of pounds on paper and printing, and to date no one has suffered a paper-cut while using Convene. We even sponsor initiatives to plant more trees by being a corporate member of American Forests.
Earlier this year, we began reviewing our carbon footprint. And we realised: haven't we all been to conferences where you end up carrying a few kilograms of paper brochures just to throw them away because the only things worthwhile are the pens, the bags and the branded stress balls? In anycase, you could just look up a company online, right?
So, we started to limit the number of brochures we distributed at conferences and people have already responded well to the alternative of us directly emailing information about our solution to them. However, we knew that we could do more.
One of our core values at Convene is sustainability. Sustainability or sustainable development is development that meets the needs of the present without compromising the ability of future generations to meet their own needs.
The world of B2B business is still dependent on paper and physical business cards. So, we decided to order our next set of physical marketing materials from the eco-friendly department at Fluid Branding.
From now on, you can actually plant our business cards and grow wildflowers. Our cards will be made from post-consumer recycled paper that has little or no printing with some added cotton fibers. Because the paper needs to have a neutral PH, bleach is not added to the pulp.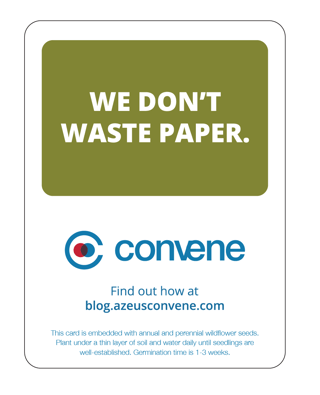 Ask us about this initiative when you talk to our sales team and they may just throw in an extra guest license or two.

And for those of you who wanted to know how you can celebrate St. Patrick's Day in an eco-friendly way, here are a few pointers:
Take a bike to the bar and remember to pick it up the next day.
Buying a new bike for every St. Patrick's Day is neither environment nor wallet friendly.
Wear

green

clothes made of organic cotton or rummage through your wardrobe.
Clothes that have been bleached and coloured with artificial dyes add to the world's water pollution, so go organic. However, the eco-friendliest way to dress green is to wear what you already own: less consumption means less waste.
Drink organic beer, coffee, or wine.
Yes, these do exist. Essentially these eco-friendly beverage producers don't waste water, use organic ingredients, recycle leftover ingredients, and even have post-consumer initiatives.
Wishing you a fun filled and truly green St. Patrick's Day, 2017!