This week we thought we'd send our customers a small token of our appreciation for their continued support. In Green Convene fashion of course.
Here at Azeus Convene, we are passionate about two things. Environmental sustainablity and customer satisfaction. In fact, we are happiest when we can do both at once. So with the festive season fast approaching, we set out to do just that.
Preparation
This week we've been hard at work hand wrapping gifts for our lovely customers. Featuring recycled wrapping paper, card and ribbon. Hand-drawn cards by our in-house elf who hates printing unecessary paper. Also, because we care about that personal touch.
The gift itself was a grow-your-own desktop Christmas tree! The perfect way to add a bit of green festivness to your desk in the lead up to some well deserved time off. Please Tweet us pictures of your results @AzeusConvene!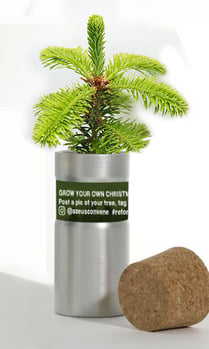 If you've visited us at one of December's conferences, you'll recognise our desktop trees. If you want to visit us in the New Year, you can find us at the AoC Governance Summit, BETT Show and ICT for Education Brighton. For more information about our conference schedule, click the link below to get in touch with one of our friendly team.
Delivery
With bows tied, tinsel found and sacks loaded, we sent out our little helpers (Walter and Santi) into the big wide world to deliver the carefully prepared gifts! By bike of course. They zigzagged across the capital, delivering our gifts with a smile.
Reception
Aside from the occasional confused receptionist, or slightly bemused security guard, everyone seems to have appreciated Convene's inventive approach to spreading some seasonal cheer!
Here at Convene, we take customer success seriously. To find out more about how our board portal solution is saving people time and money across the public and private sectors, check out out our case study page.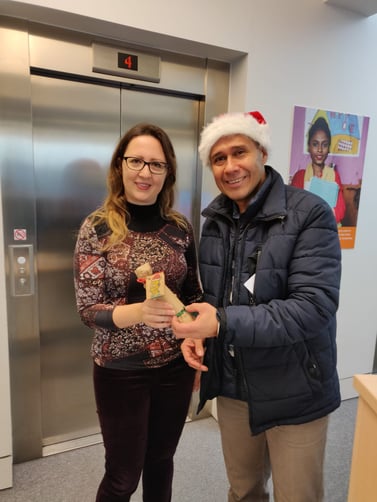 As you can probably tell, we enjoy striving for sustainability and keeping our customers happy. That's why we partnered with the World Land Trust to try and plant 200 trees in deforested areas.
The loss of thousands of acres of forest globally has had a significant effect on the climate and local ecosystems. The World Land Trust aim to plant trees in deforested areas to re-balance this effect. To find out more and see how your organisation can get involved click here.
If we've caught your eye and fancy talking to one of our team about how Azeus Convene can save your company time and money, while heading in a more sustainable direction, click below.