Who are Millennials?
Are you 20-35 years old i.e. born between 1980 and 1994 (some stretch this to year 2000)? Well, if you are, then you might already know that you belong to a generation with a very distinct identity - you are a 'millennial'. Various other names have been given to this generation – some are cool like Generation Y (because they follow the Generation X born between 1965-1979) and other unflattering ones like Echo Boomers, Gen Next, and of course Facebookers and MySpacers.
What makes Millennials different from any other generations?
Millennials have probably seen more disruptions and paradigm shifts in the last two or three decades compared to a few hundred years combined before that. Whether politics, business, economics, climate, or technology, many mind-boggling inventions, discoveries, and innovations in the last few decades have literally changed the way they live, work and play. The fact that Millennials were born in this exciting period is the single biggest reason why they are unique and very different from earlier generations. They are not only born into but also have grown up in times when science and technology made tremendous progress resulting in products, services and solutions that have changed our lives. They see the world through a different lens, have different perspectives and opinions and are used to digitalisation, mobility, social media, cloud computing and Big Data. Millennials are the generation that apart from experiencing, have also seen this shift in science and technology from earlier generations. They have seen the birth of smartphones, iPads, Facebook and Skype amongst so many others – it is hardly difficult to imagine why Millennials are so unique.
FACTS
Inkling Millennial Report 2016 says Millennials are making up a quarter of the UK population and they are predicted to hit the 17 million mark by 2019.
As reported in a 2016 Guardian article, there are around 13.8 million Millennials in the UK.
In 2015 Millennials overtook Baby-Boomers in population. They are now the largest generation in western history. Also, Millennials make up 20 percent of same-sex couples.
According to Youth Trends Report 2016, although the UK 16-24 years are more connected and digitally focused than ever, they are increasingly appreciating and embracing traditional values.
MYTHS
Millennials live with their parents -

Across the European Union's 28 member nations, 48.1 percent of 18 to 34 year olds were living with their parents in 2014, according to the EU statistical agency Eurostat. In the US, the percentage of young adults living with their parents is 32.1, which is the highest rate since the Great Depression. While the facts are undeniable, it is mostly because the most of the members of this generation are still going to college. However, 93 percent of Millennials plan to buy a home some day.

Lazy -

The Millennials are often accused of being lazy, narcissists, who cannot live without a smartphone. However, in a survey done by Ernst & Young's Global Generation Research, it was found that globally, 47 percent of Millennials work more hours in the last five years, compared with only 38 percent of Generation X and 28 percent of Baby Boomers.

Commitment phobia? -

Marriage rate is plummeting, reveals Pew Research Center. The percentage of young people married and living on their own has dropped by more than 50 percent since the 1960s. not only just putting off marriage, they are also waiting longer to have children. However, Millennials apparently never say never. While they definitely are getting married later than their previous generations, 70 percent Millennials would like to get married some day and 74 percent would like to have children, says Pew Research Center.
How do Millennials impact the workplace?
As majority of Baby Boomers or the Generation X face retirement, the Generation Y or Millennials are starting to get into employment in huge numbers, expected to be 50 percent of the global workforce by 2020 and 75 percent by 2025. This generation will not only form the new generation workforce but also shape businesses and economies in times to come. Hence, it is obvious that Millennials will create a definite impact on the modern workplace. Their co-existence with new-age technologies, different perspectives about the world, and different personalities from earlier generations will go a long way in determining the 21st century workplace. It is imperative that organisations devise strategies to attract and retain the best of Millennials to remain competitive in the global marketplace.
Millennials are different – in not only their knowledge and tech-savviness but also in their styles of working, their demands from their employers and how they visualise a digital workplace. Let's look at how the Millennial workforce make their decision before taking up a job: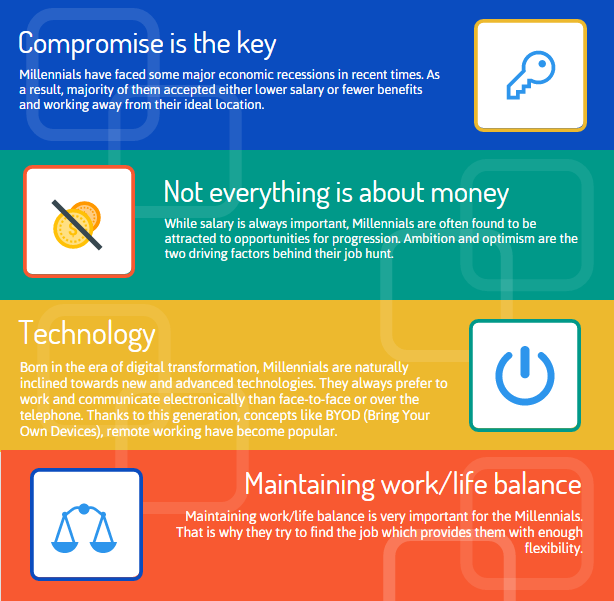 Source: https://www.pwc.com/gx/en/managing-tomorrows-people/future-of-work/assets/reshaping-the-workplace.pdf
How to retain Millennial professionals?
As explained in an Ernst and Young research paper, there are three ways to retain Millennials in your organisation.
Provide holistic pay and benefits
Provides flexibility and
Provide parental leave for both women and men
Is your organisation aware of Millennials forming the next-generation workforce? Do you realise that a digital workplace is going to be a key component to attract, retain and develop talented Millennials? What are doing about your digital workplace?