In our last two blogs about Millennials, we introduced this digitally native generation, and explained how they are the force behind the modern digital workplace. We also talked about a digital workplace and the various benefits it offers. However, no discussion on Millennials and digital workplaces will be complete without understanding a couple of things – firstly why Millennials want digitalisation in their workplace; and secondly how a company can create a digital workplace to retain its millennial employees. In this blog, we will be talking about these two aspects.
Why do Millennials prefer a digital workplace?
Millennials, as we have already discussed, are the digital generation who have been born into and experienced innovations in science, technology, business, and economics that have caused paradigm shifts in our lives. Simply put, being digital is inherent and natural to Millennials. On the other hand, everything around us is going digital and the workplace is no exception. A digital workplace is not only supported and enabled by modern technology, but also offers many benefits that we have already talked about in earlier blogs. It is, hence, no coincidence that modern digital workplaces will be naturally amenable and more acceptable to the millennial workplace compared to traditional workplaces and ways of working. Let us look at some key reasons why Millennials prefer a digital workplace.
Managing work-life balance
Per a survey[1] conducted by Ernst And Young in 2015, one-third full-time workers globally said that managing work-life became more difficult in the last five years. The report reveals that in all the countries that they conducted the survey, Millennials (35%) and Gen X (34%) find it slightly more difficult to manage work and family/personal responsibilities compared to boomers (30%). Therefore, it is quite natural that young professionals ask for more flexibility in terms of work hours and location. Digitalisation of a workplace provides just that.
Managers putting more hours than mandated - In all the surveyed countries, the notion of a 40-hour workweek was almost a thing of the past for managers. The study found approximately half (46%) were working 40-plus hour weeks and four in ten (39%) said their hours have increased over the past five years. Of those that had an increase in hours, about two-thirds (64%) had an increase of two to four hours a week and one-third (36%) had an increase of five hours or more. This clearly indicates why attrition in recent times has increased so much. When a company offers flexibility in terms of working hours, this situation can be averted.
Millennials feel they are underpaid, overworked and don't get flexibility – The study revealed that there are five major reasons why Millennials quit job. The reasons are minimal wage growth (76%), lack of opportunity to advance (74%), excessive overtime hours (71%), a work environment that does not encourage teamwork (71%) and a boss who doesn't allow you to work flexibly (69%). Also, 67% respondents said that they had to undergo excessive overnight travel. Whereas, 66% also felt that they had been subjected to 'flexibility stigma' where they were penalised with a lack of pay and promotion opportunities for working flex hours or taking leave.
How to digitalise a modern workplace?
So, we now know who Millennials are, why being digital is important, what a digital workplace is and some of its key benefits. However, though it all sounds great and glorious, how do you create a digital workplace? What does it take to digitalise a workplace? Let us understand this a bit more.
According to a report by Express Computer, Mobility, Cloud and IoT are the three primary forces that drive digitalisation of a workplace.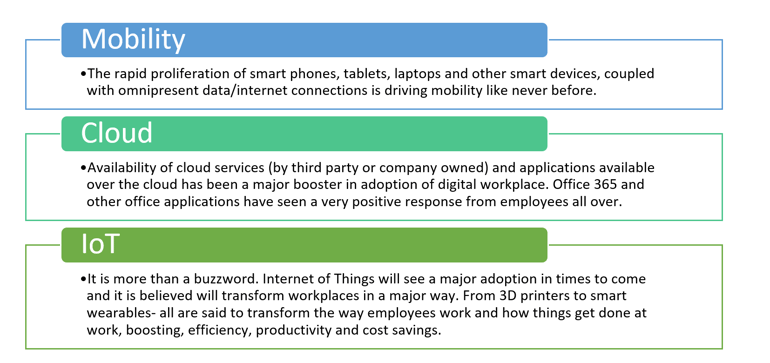 However, as mentioned before, a company aspiring to go digital, must understand that digitalisation is not just about using modern fancy technology – the best laptops, tablets and smartphone or the latest collaboration and communication application in the market. It is much more. Creating a digital workplace is the company transforming itself from the core – establishing processes and governance rules never thought of before; looking at business functions like HR, Finance, IT, and Operations in a completely different light. Most importantly, it is about changing the organisational culture to adapt to the needs of the Millennial workforce and keeping pace with the world that is becoming more digital every day.
[1] EY. 2015. "Global generations. A Global study on work-life challenges across generations." Ernst & Young Global Limited.