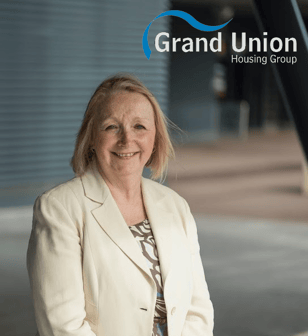 The abiding virtual image presented by Aileen Evans (right) of Grand Union Housing Group to the Smarter
Working Conference a few weeks ago, was that one of their board members having a eureka moment whilst sitting by the pool in a far flung location.
That moment was provided by Convene.
Not only was he able to review documents prior to the board meeting back in England, he was also able to make annotations and transmit them to everyone at that meeting. For a man not previously accepting of digital change, no further convincing off the value of a digital meeting platform was required. If the tangible enthusiasm of delegates and speakers is anything to go by, it's also an image of a smarter more efficient way of working that represents the future for public sector organisations.
Delegates from government departments and local authorities came to the conference with many already embracing the push to rethink productivity in the workplace and the question on everybody's lips was how can smarter working enable greater productivity?
As Group Chief Executive of Grand Union Housing, Aileen Evans was one of our panel members. Passionate about her organisation doing its bit to save the planet, she delighted the audience with examples of how Grand Union has introduced smarter, people focused ways of working, enabled in no small way by the use of Convene.
Not only have they increased the number of virtual meetings they run but annually, have eliminated the use of paper board packs and cut down dramatically on administrative time slaving at the photocopier - 'It's a dumb waste of time!' proclaimed Aileen. Grand Union have rolled Convene out beyond the board room and executive team meetings to recruitment, induction and the appraisal process departments.
Like many other organisations with board entities and a complex structure, Grand Union Housing are subject to regular in-depth assessment. What was once an onerous task to produce all the necessary documentary evidence, has now been revolutionised with the use of Convene.
Accessing previous meetings, dates and accompanying documents, (and in some cases over 1,800 pages of text) is now a simple click and send task. Leaving Aileen's team with plenty of time to focus on the work in hand. Showing the board has made decisions appropriately, has never been easier! As one of Aileen's staff said, 'My life has been made so much easier!' Contact us today to find out more.