Here at Convene we take Customer Success very seriously. When we learnt about the life-saving work carried out by the amazing teams at London's Air Ambulance and Essex & Herts Air Ambulance (EHAAT) - we decided to show our appreciation. So when we heard about the London's Air Ambulance Half Marathon on March 29th, we wanted to support our customers, so put a team together to raise funds for this vital cause.
London's Air Ambulance delivers an advanced trauma team to London's most seriously injured patients, serving over 10 million people who live, work and holiday within the M25. Using a helicopter by day and rapid response cars by night, a senior doctor and paramedic team can be at a patient's side within minutes, providing life-saving medical interventions, such as open chest surgery, blood transfusion, anaesthesia and balloon surgery to control internal bleeding at the roadside.
EHAAT work to save lives, reduce or prevent disability, or suffering from critical illness and injury, by delivering a first class pre-hospital emergency medical service to the people of Essex, Hertfordshire and surrounding areas.
"Thank you to Convene who have donated licenses to facilitate paperless Board meetings. The use of this system will help save us time and also improve productivity. Thank you for your support, we can't fly without you."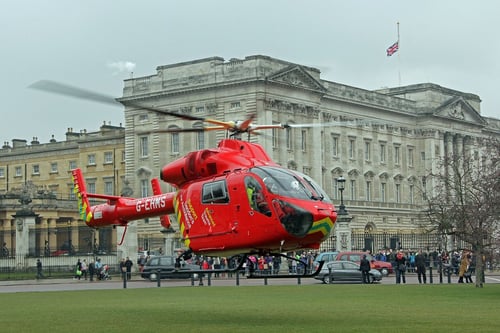 Make Meetings Cost Less and Improve Productivity with Convene
While using Convene won't save lives, it will save you time! Most of our customers - across all sectors - report that using Convene has dramatically reduced the time taken up by administrative tasks related to meetings.
We appreciate that cost is a sensitive issue for customers such as London's and Essex & Herts Air Ambulance service, but they have shown that a move towards digital meetings is a move towards a smarter way of working.
If you want to read more about how Convene has supported a range of other organisations, click here to reach our case study page.
A Token of Our Appreciation
The London Landmarks Half Marathon is proving to be an exceptionally popular race and 2020 will see it return for another year. 13.1 miles through closed roads will take runners past everything from cultural landmarks and heritage sites to the city's more quirky and hidden secrets.

The race starts on Pall Mall, finishes by Downing Street and has fabulous views of London's most iconic landmarks including Big Ben, St Paul's Cathedral, Nelson's Column, the Gherkin, the Shard, the Tower of London and the London Eye.
We love this fantastic cause and will be showing our full support by running in the event and raising money. If you are able and kind enough to donate, please visit our Just Giving page below.
To read more about how Convene has supported a range of other organisations save time and improve productivity, click here.