Convene continued its sponsorship of the Herne Hill Velodrome Track League during a turbulent 2020. Between lockdowns, the staff and volunteers organised 8 weeks of safe but feel-good racing - giving many a brief escape from the mayhem of the past year! Herne Hill Velodrome's Assistant Manager - Euan Cattermole - describes what it was like to organise and experience.
We're living in crazy times, crazy times indeed! Our racing season, normally 26 weeks long, this year, was only 8.
And we were very lucky to have it at all. Many other facilities and organisations simply weren't able to adapt and host any racing at all this year. If anything that made us more motivated to make something happen. There was so much hunger for racing, so much hunger for live sporting entertainment, so much hunger for safe, social interaction. Bizarrely, this happened to be the perfect combination of factors that caused us to have our most successful racing season in recent memory.
With people wary of clustering too closely together in pubs and bars, our large outdoor venue quickly became a regular haunt to many. Out in the open air people had the space they needed to meet up with friends and family in a socially distanced manner. Fast, exciting racing combined with informed yet energising commentary provided the perfect entertainment as spectators chowed down on freshly cooked chilli, whilst sipping away on locally brewed beer. Open to the elements, the weather didn't always play ball, but when the rain came down, hoods went up. When things got cold, winter coats went on. Nothing could dampen the vibe. The atmosphere every Wednesday evening was truly electric. It's something you simply have to experience.
With everything ramped up a notch this year, the competition was more fierce than ever, so massive congratulations to the winners of our women's and men's competitions; young stars Flora Perkins and Oscar Nilsson Julien. Thanks to all the racers for getting stuck in and for providing the backdrop to 8 blissful evenings. With the crowd out in full force each week the racers were motivated by the added energy and eager to put on a show. Heroic attacks for glory and nail-biting sprint finishes were all met with appreciation and the appropriate 'oohs' and 'aahs' from the trackside.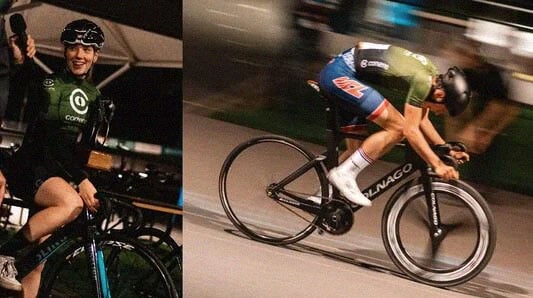 Of course, all of this wasn't easy to organise during these turbulent times where public health is at such a risk. There were an awful lot of extra precautions that had to be put in place to make all this happen during a global pandemic. Keeping up with the ever-changing regulations was a real challenge, with new measures needing to be put in place seemingly every week. With just a small staff team and all these new controls requiring lots of extra support, we had a big task on our hands. Fortunately however, Herne Hill Velodrome is powered by the people, so an army of volunteers kindly gave up their time to help make everything run smoothly. This place simply wouldn't be able to run without people like them giving up their free time in order to make all the fun stuff happen. Community really is at the heart of everything we do - it's what makes this place so magical.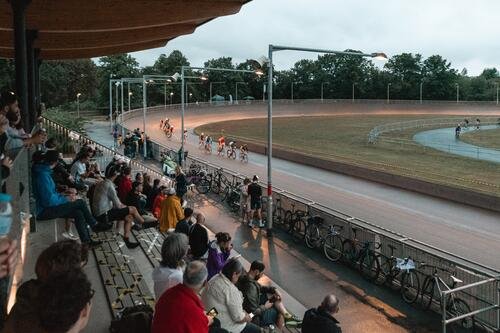 In these challenging times life has gotten very hard for so many and everyone has been craving social interaction and entertainment which are so crucial for our mental health. It would have been easy for us to say that it was too hard to organise any racing this year, or to not bother opening it up to spectators. Ultimately though, it was very important that we did as we truly believe in the positive impact it can have on people's lives. We should never underestimate the importance of the little things in life. People need that little bit of escapism and so it was paramount that we found a way for people to come down on race nights as it's the most accessible way to experience our wonderful community.
Put simply, it would be very hard to come down to watch a race and leave feeling unhappy. If you've had a rough day, been feeling a bit down, or perhaps even been feeling a bit isolated, all you'd need to do is come down on a Wednesday evening and drink in the atmosphere and we'd hope you'd leave feeling a little bit better.
We are delighted to once again be sponsoring the Herne Hill Velodrome Track League in 2021, whenever racing can safely begin. Learn more about how digital meetings with Convene can help your business - whether we are in lockdown or back to normality.
Photo from Tom Austin