Azeus Convene, a leading Board Portal solution, was recognised as the #1 Board Management Software in the 2021 Data Quadrant Awards. Convene scored highly in all categories and achieved the highest composite satisfaction score. The award reflects Convene's unwavering commitment to smart, simple, secure governance.
The in-depth evaluation from Info-Tech Research Group compared several Board Portals based on data from existing customers. At its core, software experience is shaped by the experience with the software and the relationship with the vendor.
In light of this, the Data Quadrant Awards created a detailed report based on Net Emotional Footprint, Vendor Capabilities, Product Features, and Likeliness to Recommend.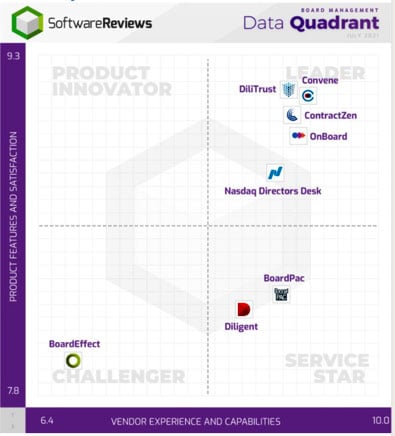 Convene's success can be attributed to the comprehensive meeting management functions that support intuitive communication. With over 30 years of service, the company has developed a solution that performs on all fronts. Convene's software particularly stood out with the essential features such as the Dashboard and Minutes Management where it achieved the highest total scores.
Despite these individual triumphs, the key to Convene's success was in how it excelled across all categories. The overwhelming consensus was that Convene's management systems enhance productivity and professionalism.
One participant in the evaluation described how "Convene allows you to plan meetings from everywhere at any time. It has a mechanism in place to secure all of your data and documents so you don't have to be concerned. It is simple to use, inexpensive, and comfortable."
Azeus Convene is used by directors and executives in more than 100 countries. Designed specifically for organisational leaders, it gives its users complete control over the entire meeting process – from pre-meeting preparation to post-meeting document distribution.
If you would like to learn more please don't hesitate to get in contact with us or book your free demo now!